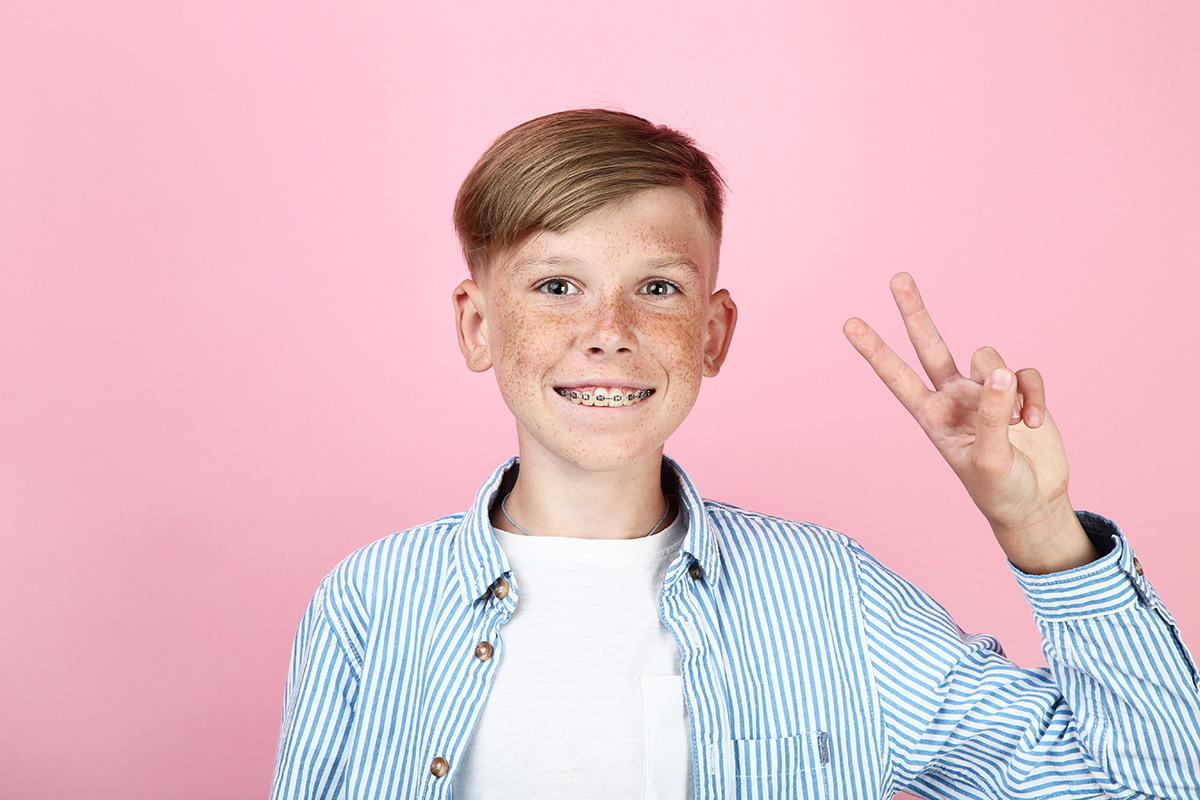 6 Things to Know About Adolescent Braces
Getting braces during adolescent years can improve the overall quality of oral health, but it may be a troublesome time if you're not sure what to expect.
Adolescent braces offer a wide variety of options and experiences, so you have the choice to select the braces that'll fit you and your lifestyle the best. And when you finally get them removed, you'll be able to show off those straight pearly whites.
Let's look at some things you should know about your braces to help prepare you a little better and ease your worries about the unknown.
Length of Wear
Even though most adolescent braces are only worn for two years, there is no exact length they will be worn. This is because the length of wear depends on some personal factors as well. These include:
The malocclusion you have and how severe it is
Prior orthodontic treatment
Your own body
If your malocclusion (the improper positioning of your teeth when your jaw is closed) is more severe, you might have to wear your braces longer than the standard two-year period. If it's less severe, you might even be able to get your braces removed before the two-year period. For example, if you just have a few gaps in your teeth, this will likely take a shorter amount of time than trying to correct a severe crossbite.
If you've had prior orthodontic treatment, such as getting an expander to prevent your teeths overcrowding, treatment may be shorter or take the average length of time. This is because the braces you'll get will only be fixing a misalignment, for example, than a misalignment and gaps.
And sometimes, your body determines how long treatment takes. Some adolescents' teeth straighten quicker than others, even with the same treatment. However, you may also play a role in your body's ability to take to the treatment. By wearing all the gear directed by your orthodontist, you're giving your body the best shot at working with the braces to fix your teeth.
What Options You Have
You have several options when it comes to adolescent braces. Those include metal braces, ceramic braces, lingual braces, or even invisible braces like Invisalign.
Metal braces are the most common type of braces, and a lot of teens wear them. They are the braces that include fun, colored rubber bands on the brackets. Ceramic braces have brackets that are more subdued in color and look more like your teeth.
Lingual braces are braces that go behind your teeth, making them invisible. And Invisalign is invisible trays that you wear to correct alignment and spacing of your teeth. This is the only option you're able to take on in off by yourself.
If you choose Invisalign braces, you'll want to go to an orthodontist specializing in teen Invisalign, like Bordentown Braces in NJ. This is because some offices will carry Invisalign for adults but not kids and adolescents.
What Foods to Avoid
The trickiest part when it comes to adolescent braces is knowing which foods to avoid. You're probably used to eating any candy or snacks you desire. But with braces, you'll have to limit certain sweets and snacks.
Anything crunchy, sticky, chewy, or too hard needs to be avoided with any braces besides Invisalign. These foods have the potential to bend or break your wires, causing extra pain and an unnecessary trip to your orthodontist.
But don't be too sad. You can still enjoy soft sweets like cookies, cakes, and ice cream!
If you choose to wear invisible aligners, you can just take them out before eating and drinking anything but plain water and pop them back in when you're done.
How Bad Do Braces Hurt?
One of the biggest concerns before getting braces is wanting to know how bad they hurt. Since they are aligning your bones, they will hurt. But the pain should never be severe. Braces work by slowly aligning your teeth, so there shouldn't be any excruciating pain.
The pain from getting braces for the first time should subside within a couple of days. You can take an over-the-counter pain reliever to help get rid of some of the discomfort. Your mouth might also be a bit sore when you get your braces tightened. The same pain-relieving method can be applied. And make sure you stick to really soft foods or even clear broths during this period to help further aid the pain relief.
Adolescent Braces Can Improve Oral Health
Getting braces won't only improve the overall aesthetics of your oral health, they'll also prevent conditions like tooth decay and periodontal disease. Overcrowded teeth make it a lot harder to floss correctly and eliminate the plaque and other gunk. This can lead to gum infections, tooth decay, and even periodontal disease.
If your bite isn't properly aligning, you can endure chipped, broken, and cracked teeth as in the case of a crossbite. Misalignment can also make you experience some soreness.
The purpose of braces is to fix misalignments and gaps in the teeth, therefore, perverting these things from happening or continuing to happen.
Hobbies and Adolescent Braces
A lot of teens play sports or join the choir during their adolescent years. It's a common concern to wonder if braces have any impact on this.
If you play sports, you won't have to worry about your braces getting in the way! The only recommendation is that if you play contact sports like football, you'll want to get a mouthguard to protect your braces. Make sure you get one that is specially made by your orthodontist. The mouthguards that you can buy in the store are less expensive and easier to get, but they might end up damaging your braces.
If you're concerned whether or not you'll still be able to belt it out in choir, the answer is yes. Maybe even better than before. Having gaps in your teeth causes low howling sounds that you might not even be aware of. Misalignment in the jaw can impact singing too. With straighter, gapless teeth, and a properly aligned jaw, you're signing may greatly improve.
Conclusion
Getting braces during adolescent years can improve your overall oral health in a relatively short amount of time. You'll have to make minor adjustments to your diet, but for the most part, you'll be able to enjoy life as you normally would. Are you in the New Jersey area and looking for braces? Bordentown Braces in Roebling NJ, specializes in kids braces and teen braces. They also have another office in Cream Ridge, NJ and serve the orthodontic needs of the entire Central NJ area, including Bordentown, Cream Ridge, Columbus, Roebling, Florence, Hamilton, Hamilton Square, New Egypt, Allentown, and more!