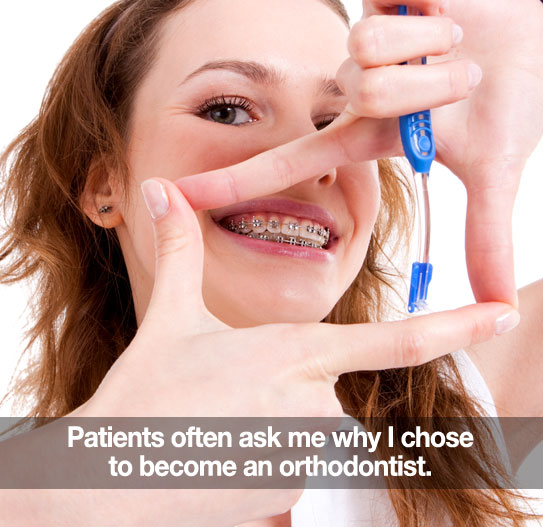 What Dr. Yana Newman Loves Most About Being an Orthodontist in NJ
We got a chance to sit down with Dr. Newman and ask a few questions about her career and how she became an orthodontist. We thought you might find her answers interesting. She has a lot to say about being an orthodontist in NJ.
How old were you, and what made you decide you wanted to become an orthodontist?
"I actually didn't know I wanted to become an orthodontist until I was in my last of four years of dental school. Most kids aren't even aware of what an orthodontist is so I wouldn't say I grew up wanting to be one. I got to observe an orthodontist's office and loved what I saw. The atmosphere of the office and patients were different. People didn't have to experience needles and the orthodontists managed to make procedures painless. After I finished dental school, I was doing general dentistry work and did part time orthodontist work. I knew it was for me. So to really answer your questions, not until my 20s, when I really discovered the difference in professions."
Where did you attend school and how long have you been practicing?
"My time at college was well spent with four years of Binghamton University, then 4 more years of dental school at the University of Buffalo School of Dental Medicine. I worked at a general dental practice at Newark Beth Israel Medical in Newark, New Jersey. I wanted to work as an orthodontist in central NJ after visiting another practice, so I went to finish 3 more years or orthodontics at Albert Einstein Medical in Philadelphia. I have been a practicing orthodontic specialist for 12 years. My goal is to have my own practice, preferably somewhere as an orthodontist near Hamilton, NJ.
What advice would you give to a young person considering a career in orthodontics?
"As an orthodontist, I definitely say that orthodontics is among the top picks for a medical profession. It does take quite a bit of dedication and time to actually become an orthodontist. We are talking about 12 years of schooling after high school. It does go by fast though since you are always learning and working. You do need to balance work, life, and family and not take everything too seriously if you want to enjoy that time. If you don't take time to do things besides school, the workload seems even larger and more difficult."
What is one thing you find more satisfying about being a dentist?
"I love seeing the self-confidence and happiness emerge in my patients as their smile steadily improves. I have also been doing this long enough to see the children and pre-teen patients experience the tooth and mouth changes as they grow up and improve, thanks in part to visiting us. My adult patients sometimes arrived as nervous teens or kids and have their attitudes change quickly when they see old Xrays or notice themselves in the mirror. Their smiles have improved greatly and they are quite happy. My favorite part is taking someone's braces off and having them look in the mirror for the first time."
What is your favorite thing to help patients with?
"Well, the answer is always making their teeth look and work better. I think that over the years, we have seen a lot more people open to braces or invisalign in central NJ. Being an orthodontist in NJ means that I introduce lots of people to different kind of braces, with invisalign being their favorite by far. You can barely see the actual braces which is extra cool and makes people want to smile more even with braces on.
I also think that helping people with invisalign in NJ is much easier than it used to be. Braces could be a tough sell a few decades ago, when they often required a mouth full of metal and possibly headgear. People are more receptive to new technology like invisalign. It's so much easier to talk about and it's not really that much more expensive than traditional braces, which aren't that intrusive anymore either.
I do like helping patients with most anything they need. My biggest goal is to make patients mouths more comfortable and correct the issues that keep them from speaking correctly or chewing right, in addition to anything causing pain."
Why Should new orthodontist patients choose Bordertown?
"One of the biggest reasons why I chose to work with Bordertown is because they already had the reputation of being an easy going practice that takes time with patients. I can take an hour or two and really go over options with our patients while I learn more about them. We also try to make patients feel extra comfortable so which leads to more relaxed, pain free conversations. I know I'm saying this because I work here, but I can't think of a better places to get braces or invisalign in NJ.
We also offer free consultations for braces and invisalign in NJ as well as virtual visits for some things. I do like virtual visits because I can still see a patient's face and of course teeth even when they cannot come in."
Final Thoughts
Thanks for your time and thoughts, Dr. Newman. Deciding on a career isn't always easy, as many students change majors multiple times in college. As Dr. Newman said, becoming an orthodontist in NJ will feel challenging, but also brings the rewards of helping people gain confidence in their smile over the course of a few years. She also gets to see her patients grow up a bit, all while helping them select products that will change the course of how they look.
One easy way of knowing if you like a potential career is to do something like what Dr. Newman did. She went and made observations comparing her potential career to do a more advanced form of the same work and decided she was more comfortable in a different environment. Take time and pick for yourself!